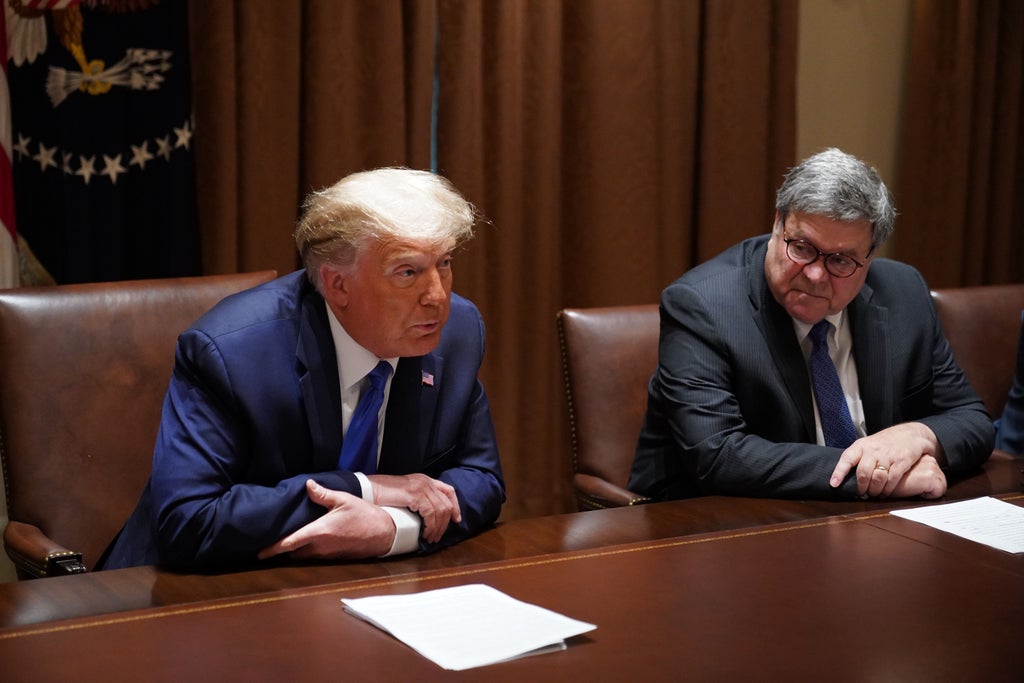 Donald Trump has hit out at Bill Barr amid reports that his former attorney general branded the ex-president's claims of widespread voter fraud in the 2020 election "bulls***".
"It's people in authority like Bill Barr that allow the crazed Radical Left to succeed," Mr Trump has said in a statement shared with a number of outlets.
"He and other RINOs in the Republican Party are being used in order to try to convince people that the election was legitimate when so many incredible facts have now come out to show conclusively that it wasn't," he said, using an acronym meaning "Republicans in Name Only".
The outburst came following the release of a preview of journalist Jon Karl's upcoming book, Betrayal, which looks at how Mr Trump and Mr Barr's relationship fell apart in the aftermath of the 2020 election.
In the preview, Mr Karl says Mr Barr "expected Trump to lose and therefore was not surprised by the outcome".
In the wake of the election, however, Mr Trump repeatedly made unfounded claims of election fraud, accusing his opponent, now-President Joe Biden of having stolen the election.
According to Mr Karl, Mr Barr had ridiculed the election fraud claims, asserting: "My attitude was: It was put-up or shut-up time".
"If there was evidence of fraud, I had no motive to suppress it," Mr Barr reportedly said. "But my suspicion all the way along was that there was nothing there. It was all bullshit."
More to come…