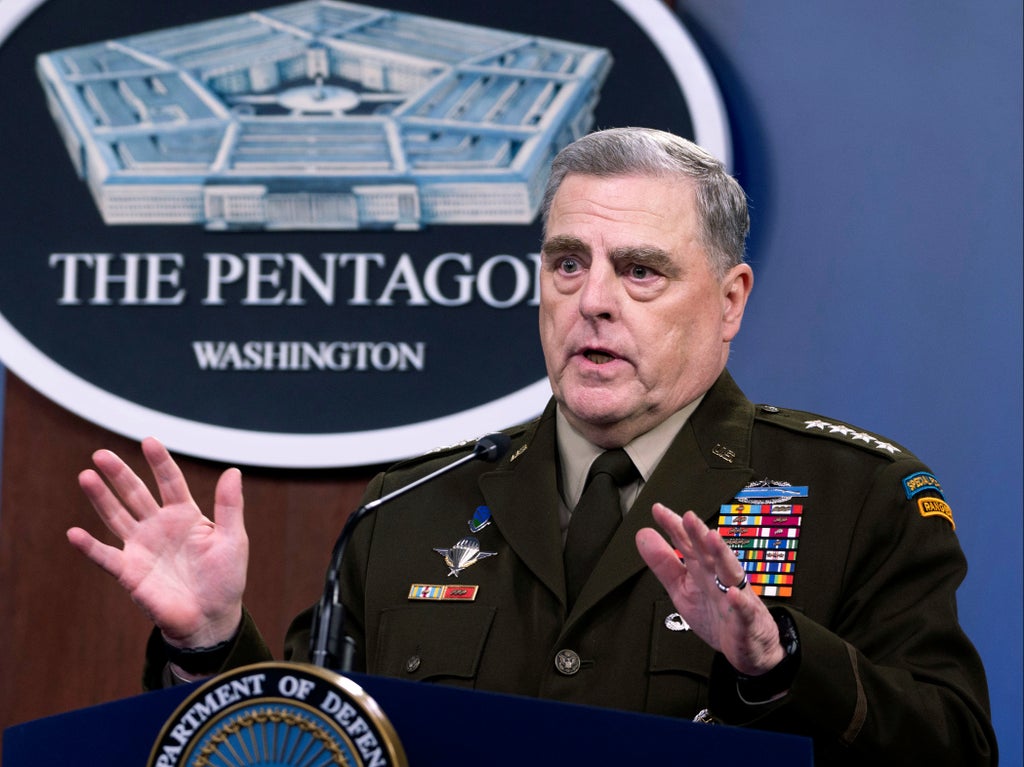 The Chairman of the Joint Chiefs of Staff, General Mark Milley, has said that the calls he made to his counterpart in China during the last months of the Trump presidency were "perfectly within the duties and responsibilities" of his job.
Gen Milley made his first public comments about the calls on Friday. In October and January, Gen Milley spoke to the head of the Chinese army to reassure him that the US was not about to attack China, and said he would give the Chinese general a warning if any military action was about to be taken.
Gen Milley said calls like those he made to General Li Zuocheng of the People's Liberation Army are "routine" and were intended "to reassure both allies and adversaries in this case in order to ensure strategic stability," he told The Associated Press.
The calls were first reported in Peril, an upcoming book by Watergate journalist Bob Woodward and his Washington Post colleague Robert Costa, and have prompted harsh criticism from some who believe Gen Milley overstepped his authority.
The top US military leader said he would expand his comments on the call during a congressional hearing later this month.
"I think it's best that I reserve my comments on the record until I do that in front of the lawmakers who have the lawful responsibility to oversee the US military," he said. "I'll go into any level of detail Congress wants to go into in a couple of weeks."
Gen Milley is set to testify in front of the Senate Armed Services Committee alongside Secretary of Defence Lloyd Austin on 28 September. The hearing was supposed to be about the US withdrawal from Afghanistan, but Gen Milley is now set to face questions about the calls he made to Gen Li Zuocheng.
The calls were made in the final months of the Trump administration as former President Donald Trump was spreading the baseless conspiracy theory that the 2020 election was rigged.
More follows…