01:32
Japan to give 1m vaccine doses each to Taiwan and Vietnam
Japanese Foreign Minister Toshimitsu Motegi said on Friday that Japan will give 1 million additional doses of AstraZeneca PLC vaccine each to Taiwan and Vietnam, Reuters reports.
He added that arrangements were also being made to send 1 million doses each of AstraZeneca vaccine to Thailand, Malaysia, Indonesia and the Philippines.
Motegi also said Japan would start to supply 11 million doses in total to regions including Southeast Asia, Southwest Asia and the Pacific islands through the Covax joint venture programme from mid-July.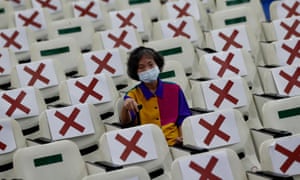 Earlier this month Japan donated 1.24 million doses to Taiwan, followed by the United States giving 2.5 million to the island which China claims as its own territory. Lithuania is also donating 20,000 doses to Taiwan.
Taiwan's foreign ministry expressed its thanks to Japan's government, saying details would be forthcoming.
"It is obvious that the road to fighting the epidemic may be long, but Taiwan is not alone," it said.

01:23
EU countries look to toughen restrictions on travel from UK
Boris Johnson's plans to back summer holidays for the fully vaccinated face a stumbling block as Portugal's prime minister became the first EU leader to suggest he would abide by Berlin's calls for tighter Covid restrictions on British tourists.
As Johnson talked up the prospects of travel this summer, even declining to rule out a foreign holiday for himself, EU leaders in Brussels were debating how to respond to the highly transmissible Delta variant first identified in India and now dominant in the UK.
A summit communique issued in the name of the 27 member states said the bloc would "be vigilant and coordinated with regard to developments, particularly the emergence and spread of variants".
António Costa, who opened up Portugal for quarantine-free breaks in mid-May to British tourists with a proof of a negative Covid test, hinted at a U-turn in his policy towards travellers coming from the UK as he spoke to reporters at the EU summit.
The Portuguese prime minister said his government had permitted UK tourists to enter the country in recent weeks on the basis of a low number of Covid cases. The UK now has the worst coronavirus case rate in Europe as a result of the spread of the Delta variant.
Daniel Boffey reports from Brussels with Aubrey Allegretti:

01:16
Hello and welcome to today's live coverage of the coronavirus pandemic.
Boris Johnson's plans to back summer holidays for the fully vaccinated face a stumbling block as Portugal's prime minister became the first EU leader to suggest he would abide by Berlin's calls for tighter Covid restrictions on British tourists.
Here are the other key recent developments:
Malta and the Balearic Islands will be added to England's green list of places that are safe to visit without requiring quarantine on return, British transport minister Grant Shapps said on Thursday.
Mexico's health regulator has given approval to US drug maker Pfizer Inc's Covid-19 vaccine for use in children 12 years old and older, Deputy Health Minister Hugo Lopez-Gatell said on Twitter on Thursday.
African Union special envoy Strive Masiyiwa accused the world's richest nations of deliberately failing to provide enough Covid-19 vaccines to the continent. Masiyiwa, the union's special envoy to the African vaccine acquisition task team, said the Covax scheme had failed to keep its promise to secure production of 700 million doses of vaccines in time for delivery by December 2021.
The pandemic, and responses to it, is pushing more people into drug use, while illegal cultivation could also get a boost as joblessness increases globally, the UN said. The Vienna-based United Nations Office on Drugs and Crime said its report showed that drug markets swiftly resumed operations after initial disruption at the onset of the pandemic – demonstrating the resilience of the market amid record demand for many substances.
The French president joined the German chancellor to urge EU countries to coordinate more closely on how tourists from outside the bloc are able to come, amid calls for all UK arrivals to the EU to have to quarantine.
The World Health Organization forecasts that people most vulnerable to Covid-19 may need to get an annual vaccine booster to be protected against variants, but the evidence on its potential effectiveness is scarce.
Japan's emperor has voiced concern over the possible spread of coronavirus during the Tokyo 2020 Olympics, in an unexpected intervention in the debate over holding the Games during a pandemic.
Ohio, the US state that offered millions of dollars in incentives to boost vaccination rates, is to conclude its program — still unable to crack the 50% vaccination threshold.
A former soldier has fired gunshots in a coronavirus field hospital in Thailand, killing a 54-year-old patient after earlier shooting dead a convenience store employee, police said. The suspect, 23, was said to believe that the patients in the hospital in Pathum Thani near Bangkok were people dependent on drugs, who he despises.